Author Visit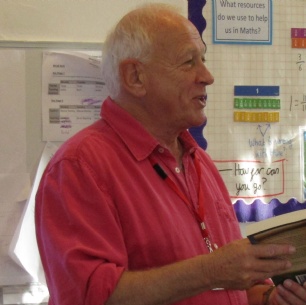 Today we had the fabulous opportunity to meet a published author of children's fantasy stories. Richard Hardie shared his experiences of writing his fantasy novels which would appeal to KS2 children. Richard shared his approach to writing his stories, the first of which 'Leap of Faith' took 10 years to finish.
Mr Hardie recruited his own cast to play the main characters from the Temporal Detective series of books, of which Leap of Faith is the first in the trilogy. Lucy made a wonderful Merlin, whilst Ben played the villainous baddie amidst the keen observation skills of Evie and Eloise as the Temporal Detectives. With Isaac as a regal King Arthur, Jacob as a random restaurant owner and Mrs Hargreaves as Merlin's sister, and with Oliver and Otto joining the crew, the mighty ensemble was complete!
We had the chance to put forward our own ideas for characters for a short story which we are promised will be written based on our ideas and on display in Waterstones and Andover Library next year sometime. Further postings will be released when this is available to read.
The visit ended with a question and answer session during which Richard was candid about the realities of writing stories and the peaks and troughs of becoming a published author.
Thank you Richard Hardie for an inspirational visit, we cannot wait to read our Grateley short story!