Roche Court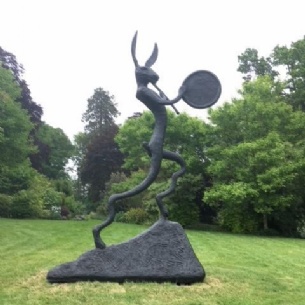 Roche Court Sculpture Park Visit
KS2 were invited to Roche Court to view the fantastic sculptures on Thursday 24th May. All the children had an amazing time and have been really inspired by the sculptures they saw. We are going to be creating our own sculptures to form our own mini sculpture park in school after half term.
During the visit the children saw sculptures made out of a variety of materials such as bronze, iron, wood, steel and gold. We talked in detail about how the artists began their creations with the designing stage and then moved on to making miniature models and versions. One sculpture was a large gorilla looking into a mirrored pond. The children learnt how the sculpture was formed by making the gorilla out of clay initially and then creating a mould which the bronze could be poured into. The children discovered the reasons different materials had been used and found out about how they were structured so that they had stability. Most of the artists that had produced these sculptures were engineers as the formation of the structure was exceptionally important so that they do not fall over or collapse.
An excellent day that was enjoyed by all.