Bay Labs Trip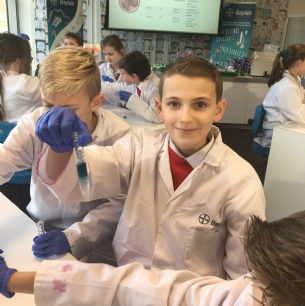 This week Attenborough class had the opportunity to travel to Reading to Bay Labs. Bay Labs combines deep learning, a type of artificial intelligence, with cardiovascular imaging to help in the diagnosis and management of heart disease - the leading cause of death in the world. They hold sessions for school children from 7 years old through to A Level so that children can learn about Science and have opportunities conducting experiments that they wouldn't normally be able to participate in.
This visit was for a session called 'Colour Chemistry' where the children learnt about white light and how we see, learning about how the eye works and taking one apart (a model not a real eye ball!!). They then made their own paint, weighing out the exact amounts of each pigment to create the colour they wanted, followed by dyeing a fabric strip using natural dye from blackberries, cherries and pomegranate. They then learnt about the pH scale and tested liquids to see what their pH was using red cabbage.
A superb day, thoroughly enjoyed by all and we are all looking forward to our next trip in April and Adamson class will be visiting in July.