The Living Rainforest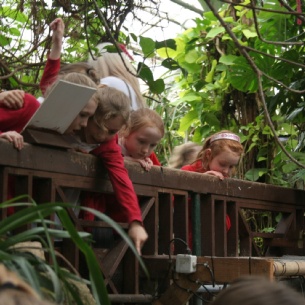 Well we finally got to The Living Rainforest after our coach broke down in the pouring rain! I have to say I was so very proud of Adamson Class as they were calm and their behaviour exemplary throughout our long wait for a replacement coach. Well done everyone!
Thank you to our helpers for the trip as our trip could not have happened without them. So, Mr Shields, Mrs Smith, Mrs McNair and Mrs Baysting, THANK YOU!
The Living Rainforest was worth waiting for as we had the chance to see hissing cockroaches, poison dart frogs, toucans, tambaqui fish, tortoises, turtles, capybara, pygmy marmosets to name just a few! Some of the group also were lucky enough to spot the illusive sloth in the branches above us - well, we spotted the fur at least, and we think that counts!
Some of us were abit scared of the bird-eating tarantula, very aptly named Godzilla! Our tour guides were fantastic - really knowledgeable, interesting and animated in their teachings.
So, a fabulous day had by all.